Xero 1300 Down Sleeping Bag
£698.00
| | |
| --- | --- |
| Down Quality: | 800 |
| Outer Fabric: | Drishell |
| Weight: | 2190g (77oz) |
| Typical Operating Temperature: | -54°C (-65°F) |
| Colour: | Royal Blue |
| Construction: | Trapezium cross-baffles on main body. Vertically aligned trapezoid baffles over chest. Side V Channels |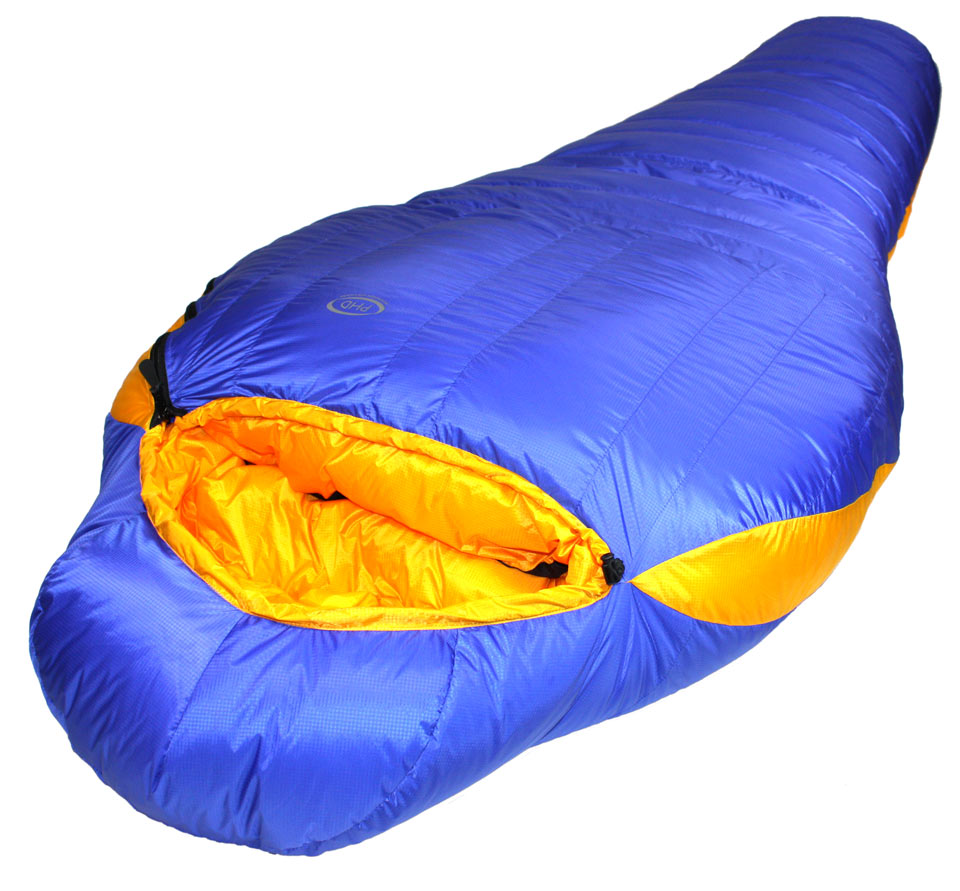 Xero Down Sleeping Bag
Further Information
Ideal for long expeditions in extremely cold conditions, this Xero Down sleeping bag has been expressly designed to accommodate down clothing, even a full down suit.
The sophisticated baffle system is designed for excellent down control, while the short zip and down filled gusset combination makes it completely fail-safe.
It is cut wide, with an inner measurement of 164cm around at the chest (enough to accommodate even down clothing inside) expanding to 182cm with the gusset open. A full-length zip version is also available for maximum ventilation.
900 down option
This option extends the range of this bag down to -64 C. Weight stays the same. Read more on our exceptional 900 down.
As used by the British Antarctic Survey, Ice Warrior team, Fuchs Foundation Arctic expeditions, and many others.
As used on The Coldest Journey on Earth
Cowl hood: close fitting with drawcord; inside lined with Drishell.
Side V Channels: down filled channels along each side ensure insulation; extra outer/inner differential allows full loft
Wind and water resistant Drishell outer
Drishell inner panels at head to protect against breath soaking the down
Drishell panels at inner foot to cope with damp feet/footwear
Extra width for expedition use
Short zip with down-filled gusset for security (in the event of zip failure) and for extra expansion if needed
Collar - 3D collar in Drishell with drawcord
Footpiece - ovoid shape to fit naturally to feet and avoid pressure
Black inner for quick drying
Large mesh storage sac
Stuff sac
Pack size: 27 x 49cm† 
Set Options:
In addition to the standard options you can customize this bag further. Find out how.
† Please note: we make our stuff sacs big enough to allow fairly easy stuffing rather than reducing the bag to the tightest minimum. What air is left in the packed item will easily be compressed out of it, if you are squashing it into a small space in your rucksack. Tiny stuff sacs look impressive: but unless you are a sac-wrestling fan, fighting the gear into them day after day can be an unnecessary chore.
‡Please note: the optional HS2 outer is a complete extra outer shell, with seams taped for weatherproofness. The extra layer of fabric adds considerably to the weight and bulk of the basic bag (around 180gm - 6oz). It increases the weatherproof qualities of the bag in mountain or arctic situations, but it is not a substitute for a proper bivvy bag when sleeping out in the rain.
"The Xero 1300 sleeping bag was great for Mt McKinley! Nights felt as in summer in Italy in the sleeping bag. Thanks again" T.E.