Any Good? Not Half
22 Aug 2017
We asked half bag fans for their thoughts on half bags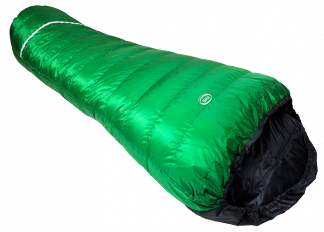 We've had pieds d'elephant* (otherwise known as half bags) in the range for a while now. To those who don't know, they might seem a bit quirky…but to those who do, they're a real godsend. The idea's pretty simple: use your jacket for the top half and the half bag for your legs, and you won't have to carry as much.
The idea is born of bivvying: if you're carrying a "just in case" bag, it's a lot easier if it's smaller. And, as you get colder when properly asleep than when dozing in a bivouac, you can use an even lighter bag/jacket combo than you'd need for camping.
This bag has seen quite a bit of use in the Lake District over the Winter and Spring seasons. It forms part of my go-to sleep system when I know I will be carrying an insulated jacket with me. I recently went to Chamonix for 3 weeks, where it was used every day in all conditions, from damp valley camping to high mountain huts. Despite the efforts of the weather, the bag remained perfectly lofted at all times and kept me warm at 3700m in an icy wooden shed—Thomas Dimaline, Alpine Ultra Half Bag.
So, that's the idea behind them…but here are a few other things to think about from some of the other folks who are out there using them:
I use it with a PHD Minimus Down Jacket, it's great to be able to keep the jacket on until I move off. I suppose the best feature is that I always find a full sleeping bag restrictive and end up with my arms out of it and cold, but they stay warm now!—Chris Gould, Hispar Half Bag

I've rather enjoyed the Hispar Half Bag's lack of a zip. When it's time to sleep, I just slip into the bag and pull the drawcord tight. There's no problems with the bag being twisted or sitting the wrong way. While the others attend to breakfast in their cold, clammy hard-shells after a good night's sleep, I can comfortably sit up in my bivvy and take care of my morning meal.—Edward Benton, Hispar Half Bag
Actually, Edward's now sold all his full-length sleeping bags and is a full convert to half bags. You can read the rest of his review here.
As well as classic mountain bivvies and new ways to stay comfortable when out camping, we've received a few slightly more off-piste suggestions for how they come in handy too.
Half bag is performing well for me. I just keep it in my paragliding harness and use it for vol biv missions or unexpected nights out. It's good because it packs up small and I'm always wearing a down jacket when I'm flying in the mountains anyway.—Glen Stevens, Hispar Half Bag
"Vol Biv", in case you were wondering, means "flight camping".
I now tend to use it in situations where I would have taken a full bag before, and inside an overbag when it's cold, Greenland and Norway in winter. It's been a really useful addition. I often take my kids on trips to the mountains, even to quite remote places in winter, and use the Hispar half bag for them – perfect size and light when I'm carrying kit for two. I camped on the Folgefonna glacier in December with my 5 year old in the Hispar Half Bag and a Minim Overbag and he slept soundly every night and stayed warm in the half bag around camp in the evenings.—Damon Hoad, Hispar Half Bag

I live in Australia and have used the bag on all my overnight trips, the temperature has dropped down to -5 C and I'm still warm enough, but am wearing quite a bit of clothing. But that is OK, that's the idea in bikepacking, you try to use all that you carry.—Hugh Spear, Wafer Half Bag
Do you use half bags? Are you now feeling inspired to try them out? Let us know what you think!
*It means "elephant's feet". We didn't come up with the name…but we wish we had.
Edward's now sold all his full-length sleeping bags and is a full convert to half bags.