The Coldest Journey on Earth
17 Sep 2012
PHD will provide down clothing and sleeping bags to Sir Ranulph Fiennes's unprecedented Antarctic expedition.
Sir Ranulph Fiennes has announced a plan to traverse the Antarctic continent in the polar winter of 2013. No one has attempted such an expedition before, which will take place in total darkness and in temperatures down to minus 90 degrees Celsius.
PHD are proud to be official suppliers of Down Jackets, Down Sleeping Bags, Down Trousers and Down Mitts and Boots to the expedition. Expedition Organiser, Sir Ranulph Fiennes, said PHD's down clothing is "a keystone of our ability to mount this, the most difficult and ambitious polar challenge in history".
On 6 December 2012, on board the expedition's South African ice-strengthened research ship, 'SA Agulhas', the expedition team will leave London, bound for Antarctica.
On 21 March 2013, the equinox, the five expedition members will begin a six month journey to reach the Ross Sea. Their route from the Russian base of Novolazareskaya ('Novo') to Captain Scott's base at McMurdo Sound, via the South Pole, will test the limits of human endurance. During this six month period the expedition team will travel nearly 4,000 kilometres, mostly in complete darkness in temperatures as low as -90°C. The expedition team will have to be entirely self-sufficient and there will be no search and rescue facility available, as aircraft cannot penetrate inland during winter, due to darkness and risk of fuel freezing.
Previously, the furthest any expedition has ever ventured into Antarctica during the winter is 60 miles. On this forthcoming journey, The Coldest Journey team will aim to cover 2,000 miles in six months, crossing the polar plateau at an average height of 10,000ft above sea level.
The Foreign & Commonwealth Office has not previously granted permits for winter expeditions in Antarctica as they are deemed too dangerous; a testament to the sophistication of the technology required for this traverse.
Preparatory Testing
Preparing for such an undertaking involves the development and testing of a vast range of equipment: from the Caterpillar vehicles and cabooses; to the personal protective clothing and sleds.
Cold Chamber
Testing of the expedition's clothing began last year with cold chamber tests in conjunction with the University of Portsmouth. Heat loss was measured using thermometers, thermal imaging cameras, and subjectively. Of all the down jackets tested, PHD's Omega Down Jacket retained the most heat over a 5 hour period in a cold chamber at minus 52 degrees Celsius. And of the eight gloves tested PHD's Omega Down Mitts also came out top. In the subjective tests Steve Seaton had to remove the Omega Down Jacket "almost straight away as it was too warm". Another tester, Mac Mackenney, called it "rock solid, warm". And in a further test our Xero 1300 sleeping bag enable tester 'Tomo' to stay lying down in the cold chamber for hours (he only pulled out because of condensation inside his mask).
Trials in Sweden
Following the cold chamber trials, equipment trials were held in February 2012 in northern Sweden. There the team experienced temperatures down to -42°C. Following the trails it was confirmed that the support team of mechanics in the Caterpillar vehicles would also be using PHD Omega Jackets and Trousers when out on the ice. Their items will use our tough Tempest outer fabric to provide extra abrasion resistance.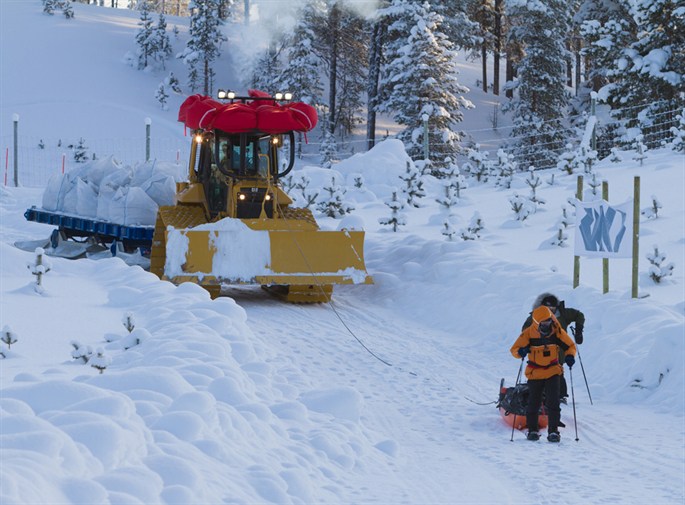 Special PHD Down Equipment
The conditions encountered on this expedition will be so exceptional that we are modifying the personal gear to give even higher performance. For example impermeable liners inside the Omega clothing and Xero Sleeping Bags will prevent body vapour freezing inside the down and turning them into rigid lumps of ice, while face-tunnels on the sleeping bags will keep the searing cold away from the lungs and minimise ice build-up around the face. The sleeping bags will be made to a special shape and filled with our unique 1000 down. This will be the warmest kit we have ever made, appropriate for such an extraordinary venture.
Snow sampling in Antarctica in a PHD Omega Down Jacket
Sir Ranulph Fiennes said PHD's down clothing is "a keystone of our ability to mount this, the most difficult and ambitious polar challenge in history".