Ben Kane Top Camp on Broad Peak 8051m, -25/30°C
In 2012 Ben was guiding on Broad Peak, 8051m high and the 12th highest mountain on earth. He had a Hispar 500 sleeping bag to use inside the Hispar Overbag. But he found that using both bags was too warm, so on the summit push he took only the Hispar Overbag (rated at just -6°C as a stand-alone bag) and wore his Xero suit inside it. Perfect fit and a good night's sleep, with only one lightweight bag to carry.
Ben says:
"When we were on our summit push (no summit - bad snow conditions) I used just the Overbag and my Xero suit, which was perfect. Plenty of room for the suit to loft."
Technical Note: Rated at -6°C the Hispar Overbag is the least warm of all the sleeping bags in our Hispar range, yet it was warm enough on this occasion for top camp on an 8000m peak when used with a Xero Suit inside ~ the Sleep Systems way.
In the Systems we have recommended for 8000m peaks we have named a warmer bag (the Hispar 600) to provide a bigger margin for bad weather or accident. The 600 weighs 140g more than the Overbag Ben used, but it provides 15°C more insulation, taking the rating for the full system with the Xero suit inside all the way to -47°C.
Sleep system mentioned in this case study
Related products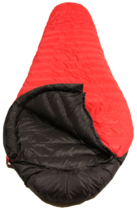 Used in combination with your lightweight Hispar bag to boost its warmth by 24°C. A roomy stand-alone bag in its own right too.
High-altitude expedition suit. Light enough for the ascent, warm enough for when the mercury freezes.