Autumn Specials
The Minim Marathon bags and Wafer Pullover make up our Autumn Race Collection - only available in September and October 2016, and with between 20 and 25% off in September only.
The Sigma trousers and socks are new permanent products, but are being launched with a 15% off introductory offer until the end of September 2016.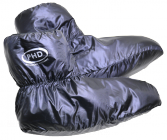 Lightweight socks filled with synthetic insulation for camping in cool and wet conditions.