Summer Specials
The Vari-Fill bag is only available in July and August 2016. The Sigma trousers and socks are new permanent products, but are being launched with a -15% introductory offer until the end of September 2016. The Minim Marathon bags are part of our Autumn Race Collection - for September and October 2016.
Variable filling to minimise weight: lighter in the torso to allow combining with a lightweight down jacket. Perfect for planned Alpine bivis & high camps.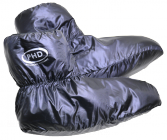 Lightweight socks filled with synthetic insulation for camping in cool and wet conditions.