The Million Dollar Mountaineer
14 Apr 2021
Alex Pancoe aims to raise $1m for a children's hospital in a PHD Double Down Suit.
Over the last few years, giant Ws have been appearing on mountain tops all over the world. What this means is that Alex Pancoe is there. Alex is from Chicago and when he climbs mountains he takes Chicago with him in the form of a flag bearing a giant W of the kind flown above the stadium of the Chicago Cubs baseball team after every win. He also takes the flag of the university he went to, Northwestern, and the flag of Lurie Children's Hospital, a Chicago hospital that treated Alex himself when he was eighteen and had a brain tumour. Now Alex raises money for Lurie's with his climbing. He's raised about $500,000 so far. He's aiming for $1,000,000. Next, when the pandemic permits, he's climbing Broad Peak, the twelfth highest mountain in the world, without supplemental oxygen. We've supplied him with our Expedition Double Suit, the -50°C version designed for no-oxygen ascents of 8,000-metre peaks.
Alex hasn't been climbing mountains long. The first was Kilimanjaro in 2016. But a flurry of mountains followed, and in 2019 he completed the Explorer's Grand Slam, which involves reaching nine of the places on the planet that are hardest to get to: the highest peaks on each of the seven continents, and the North and South Poles. Only a few dozen people have ever done this. Alex is the only Chicagoan. The achievement, like most momentous achievements, involved some magic and some misery. There were good moments. There were bad moments. Alex once summed up the climbing of mountains like this: it kinda sucks, but then you get to the top. He likes going for the summit at night, and reaching it around dawn, with a feeling of peace upon the place. He likes the sound of crampons at night.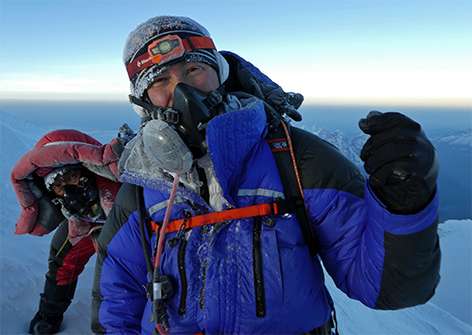 The bad moments included some very bad moments. While training on Snowmass Mountain in Colorado, he fell and cut his leg so badly that he thought his time was up. He couldn't walk. He lost a lot of blood. He was hypothermic. He'd left his GPS in his car and had no signal on his phone. He crawled under a boulder and made goodbye videos for his friends. For a while, he lost consciousness. When he came to, he decided to start crawling down the mountain. Then he got a single bar of reception on his phone. The single bar saved him. He rang 911 and awaited rescue. The High Altitude Army National Guard arrived and helicoptered him out. He feared the injury would mean he couldn't climb again. But six weeks later he was climbing Cho Oyu, in preparation for Everest.
Now he's preparing for Broad Peak. Broad Peak is one of the world's fourteen 8,000-metre peaks. It's in Pakistan, next door to K2. It was first climbed in 1957 by a group of Austrian mountaineers that included Hermann Buhl, famous for once spending an entire night standing on a narrow ledge on Nanga Parbat because there was no room to sit and no light to see by. Broad Peak has its challenges. It's a steep mountain. There's a risk of avalanches. And Alex will be attempting it without supplemental oxygen, which means he'll feel the cold more. In conditions of low oxygen, our blood is less good at keeping us warm. Which is something we thought about when we created the -50°C version of our Expedition Double Suit. It's a very warm suit for very cold conditions.
But it isn't just for very cold conditions. The Double Suit is designed to cope with all the temperature variations you might encounter on a mountain. It uses layering to make sure you're not too hot on the lower slopes or too cold on the higher. One of the dangers of going to very cold places is being too hot. You're exerting yourself in very warm clothing, and heat exhaustion and dehydration are very real threats. Alex, in fact, has spoken of how, on a mountain, his ideal is to be cold, but not too cold. The Double Suit, with its one-piece inner layer and its removable two-piece outer, makes it easier to keep your temperature at the level you want during the different phases of the climb. And though it may be a double suit, it's lighter than a single. We've managed to achieve more versatility, while also achieving less weight.
Alex is halfway to achieving his million dollar target now. The money goes to Lurie's paediatric brain tumour programme. If you'd like to follow his progress or donate to his cause, you can find him on Twitter @AlexanderPancoe, and on his website, peaksofmind.org. We look forward to seeing him flying the W at the top of Broad Peak very soon.
On Snowmass Mountain, Alex fell and cut his leg so badly that he thought his time was up. He feared the injury would mean he couldn't climb again. But six weeks later he was climbing Cho Oyu, in preparation for Everest.