2017: A Year of Innovation
Here at PHD, we enjoy an unusual freedom when it comes to new ideas. Because you won't find us in any shops, we don't need to worry about getting a new range ready every season: if something works, we keep doing it. But, on the flip-side, it means we're free to think up whatever we want, whenever we want, and that's the really exciting bit!
In 2017, several of these ideas came to fruition, including some real world-beaters.
Expedition Double Suit
This was the biggest innovation in down suits since Peter Hutchinson created the first one over forty years ago. Down suits are indispensable for 8000m peaks, but when they get too hot, they can't be safely removed – not without removing your climbing harness.
Our deceptively simple but revolutionary solution: a double layer suit. You wear your harness over the inner, while the two-piece outer has slots to let the ropework through, allowing you to safely adjust your insulation. It's already seen success on Everest and, we're happy to say, has been very well received!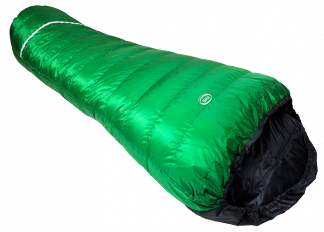 Xero Half-Bag
This was an extreme-conditions spin on an established idea. A half bag teamed with a jacket is a classic Alpine bivouac setup, and although the idea fell out of favour for a while, it's back! And, thanks to the introduction of the Xero Half Bag, it's no longer the sole preserve of alpinists.
Camp down to -30°C, bivi down to -40°C (with suitable clothing, obviously!): this lightweight approach has now been extended to the extremes.
WaferLite Series
This is pretty much the opposite of the previous two: rather than heading into the coldest conditions, this was all about making the lightest gear imaginable. Introduced as part of our limited edition Summer Lightning Collection, in the end we felt we just had to keep them in the range!
Quite simply, the Waferlite Jacket, Shirt and Vest are the lightest down tops in the world. They're warm down to around 5°C, which is what you'd expect from a mid-weight fleece…but they're also completely windproof and small enough to fit in your pocket. Can your fleece do that?!
Icefall Jacket
This is a very different beast again: it's a solid, dependable winter coat. Born of the needs of film crews and photographers – who have to stand around in rotten weather for hours – the Icefall has a TOT of -15°C, deep pockets and – unlike most down jackets – is shelled in waterproof, breathable HS2 fabric.
Most of our kit is designed to be as small and as light as it can be without compromising its performance. Although at 750g it's not exactly weighty, the idea driving the Icefall wasn't packability, it was wearing it day-in, day-out, in the depths of winter.
That said, we launched it in the spring! And that brings us neatly back to the beginning: we don't have to worry about getting the next season's range ready, so we can just get on with our new ideas, whenever we like. It's been a good year for ideas, and hopefully next year will be too. We'll let you know as soon as they're ready!