Sleeping Bag Construction
Good design tends to look simple, although the concepts and their execution may be anything but.
M.Degree Range
For those wanting minimum pack-weight for mountain marathons, ultra-races, and ultralight backpacking or trekking, this is the range to choose. For maximum weight saving, the base of the bag has either a stitch-through construction or, in the case of the M.Degree 400, a narrower boxwall construction. The top is insulated with a straight wall baffle system, the lightest of all baffle systems. The lighter base means that this bag, more than the others in our range, relies on the insulation provided by your sleeping mat. In cross section it looks like this:
Minim, Delta and Greenlandic Ranges
For lightweight backpacking, for mountain marathons, for self-carry trekking, or as a just-in-case backup item, this style offers the luxury of carrying a really light pack. Despite its economical pared down design this bag style has an insulating straight wall baffle system throughout (no straight-through stitching). Straight wall is the lightest of all baffle systems. In cross section it looks like this:
Hispar Range
The Hispar range blends the advantages of the Lightweight and mountaineering designs into a sleeping bag style which offers high performance in extreme environments at a remarkably low weight. This is the style to choose for fast-moving ascents or any venture into severe cold where weight will be critical. Straight wall baffles minimise the construction weight, while the mummy hood, side V channels, and double draft tubes behind the zip optimise insulation.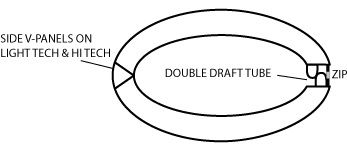 In cross section the baffle system looks like this:
Diamir and Xero Ranges
This design is suited to expedition use, whether in high mountains or high latitudes right up to the poles. The design has a close-fitting down-filled mummy hood, and side V-channels which ensure all areas of the body are insulated. The baffles over the chest are vertically aligned, which stops any horizontal shifting of the down caused by arm movement during the night.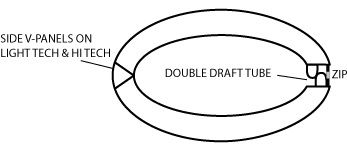 PHD's trapezoid baffle system is used throughout. This is the best of the technical baffle systems, combining excellent down control with low baffle weight. In cross section the baffle system looks like this: