Kalahari Augrabies Extreme Marathon (KAEM)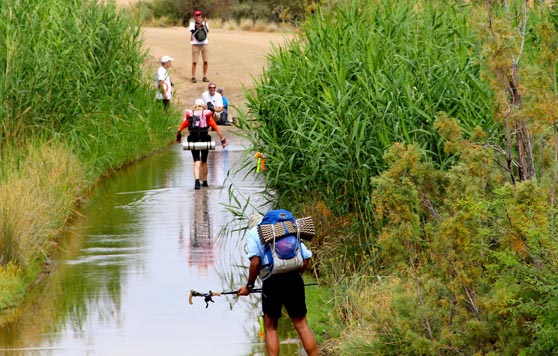 The South African Kalahari Augrabies Extreme Marathon (KAEM) is a seven-day self-sufficient race covering 250km of sandy desert and rocky, mountainous outcrops. One stage of 80km is run over a complete day and night. Competitors carry everything they need for seven days on the move: food, sleeping bags, warm clothing, and cooking equipment. The overnight camp facilities provide shelter, drinking water, and an open fire, but that's it! So with a typical pack size of 10–12kg and temperatures in the day of 35-45 Celsius and a chilly 4 Celsius at night, the right kit selection is vital.
Kalahari Augrabies Extreme Marathon Sleeping Bags
The two standard PHD sleeping bags which are most suitable for the KAEM are the Minimus and the Minim 400. The Minimus excels at saving weight and bulk in your pack, while the Minim 400 ensures secure warmth if the temperature dips. Both bags are also available in "K-Series" variants, using lighter materials and 1000 fillpower down to give the same performance but at a lower weight.
The Minimus has been used below zero on many occasions, but mostly in competitions where only one or two nights camping were involved. The KAEM is much longer and the argument for extra comfort (Minim 400) is strong.
There is a third bag, the Ultra K, which is a choice for the extra-competitive or the hardy: it is the lightest bag of all, but you may have chilly nights. (Combining a sleeping bag and down-filled clothing can, however, be used to good effect.)
Both the Minimus and Minim 400 are useful all-rounders which lend themselves very well to the KAEM.
The basic figures for the above bags:
S-bag
TOT (Min Temp)
Weight
Packed size
Hght x Diam (cm)
Price
£
C
F
gm
oz
Minimus
5
41
465
16
21 x 13
313
Minim 400
-5
23
670
24
28 x 17
382
Ultra K
8
46
330
12
21 x 13
350
Minimus K
5
41
380
13
21 x 13
402
Minim 400 K
-5
23
585
21
28 x 17
505
Additional points:
TEMPERATURE RATING: Put simply, these are the temperatures at which you should be able to get a night's sleep in normal circumstances. For fuller details about the TOT rating see this Technical Briefing.
LINERS: A liner will add to the insulation if you choose the Minimus or the Ultra K, but want more warmth. As always it is a trade-off between the extra weight and bulk and the warmth you gain (maybe 2C). Silk liners at 140gm are a popular choice, but for a greater boost of extra warmth, our K-Series Filler Bag will add 10°C to the bag's TOT for a weight of just 240gm.
CLOTHING: Thermals (if you are taking them) and/or other clothing obviously help to keep you warm. If choosing the Minimus or the Ultra K, then Wafer clothing adds considerable warmth for minimal weight. Even warmer but still very light is the K-Series Ultra Down Vest at 150gm. See the Clothing section below for more details.
FABRIC OPTIONS: The Minimus and Minim 400 come as standard with M1 outer fabric. MX and Drishell are the other optional outers for these two bags. MX is exceptionally tough but nevertheless reduces the total weight by about 18gm. Drishell is highly wind/water resistant and adds about 40gm to the total weight. The K-series versions of these bags come with MX as standard, with Ultrashell as the water resistant option. Ultrashell adds about 18gm.
ZIPS: None of these bags has a zip. Zips are an option, but most competitors don't ask for one. A short zip with draft tube adds about 50gm (2oz): a full zip and tube adds about 110gm (4oz). Zips also add to the packed size.
PACKED SIZE: PHD stuff sacs tend to be on the loose side. All these bags can be compressed further in your sac, particularly the Ultra K.
Figures for Fabric options:
S-bag
Materials
TOT (Min Temp)
Weight
Packed size
Hght x Diam (cm)
Price
(£)
C
F
gm
oz
Minimus
MX outer
5
41
440
15.5
21 x 13
336
Minimus
Drishell outer
5
41
505
18
21 x 13
345
Minim 400
MX outer
-5
23
645
23
28 x 17
405
Minim 400
Drishell outer
-5
23
710
25
28 x 17
414
Minimus K
MX outer
5
41
380
13
21 x 13
402
Minimus K
Ultrashell outer
5
41
398
14
21 x 13
434
Minim 400 K
MX outer
-5
23
585
21
28 x 17
505
Minim 400 K
Ultrashell outer
-5
23
603
21
28 x 17
537
Down Clothing selection
The use of down clothing to create a layered Sleep System while in your sleeping bag – and for wearing around camp of course – is worth considering for ultimate weight saving and provision of warmth. Our Wafer range of clothing was designed with this in mind: a fraction of the weight of fleece (and an even smaller fraction of the bulk), but totally windproof and capable of keeping you warm down to round about freezing point. Lighter still is the WaferLite range – probably the lightest down tops in the world – which are rated to 5°C: the temperature the race organisers say you should expect at night. If you're looking to go warmer than the Wafer or WaferLite though, there is the Ultralight range: the Ultra Vest K weighs only 150gm, which is lighter than most T-shirts, yet it will provide real warmth down to approximately -5°C. The Ultra Pullover K is the sleeved version, and at just 230gm represents another very useful option. Along with these, our Minimus Down Trousers and Minimus Down Socks will add considerably to the performance of your sleeping bag.
The next Kalahari Augrabies Extreme Marathon will start on 10th October 2019.