Original Mountain Marathon (OMM)
Looking to strike the right balance between warmth and weight is difficult when conditions on the OMM can vary between wet and wild at one extreme and decidedly chilly, even freezing, at the other. On cold mountain nights one wants to rest and sleep well.
OMM Sleeping Bags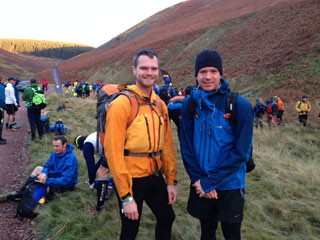 The two classic choices for PHD OMM sleeping bags have been the Minimus K and Minim 400K: lighter variants of our already-lightweight backpacking bags. The Minimus K excels at saving weight and bulk in your pack, while the Minim 400 K ensures secure warmth if the temperature dips.
Developing on from there however, our M.Degree° K series takes the Minim concept and lightens it even further: the M.Degree° 200K and 300K offer similar warmth to the Minimus K and Minim 400K, but at a lower weight. For those who get very cold, the M.Degree° 400K is warmer than a Minim 400K but nevertheless lighter.
The Minimus has been used below zero on many occasions, but mostly in competitions where only one or two nights camping were involved. The OMM can be a fully committing mountain race though, and under cold conditions the argument for extra insulation is strong.
Both the Minimus K and Minim 400K are useful all-rounders which lend themselves very well to the OMM, while the M.Degree° bags were conceived as focused kit for racing.
The basic figures for the above bags:
S-bag
TOT (Min Temp)
Weight
Packed size
Hght x Diam (cm)
C
F
gm
oz
M.Degree 200 K
4
39
340
12
21 x 13
M.Degree 300 K
-3
26.6
445
16
21 x 13
M.Degree 400 K
-9
15.8
550
19
28 x 17
Minimus K
5
41
380
13
21 x 13
Minim 400 K
-5
23
585
21
28 x 17
Additional points:
TEMPERATURE RATING: Put simply, these are the temperatures at which you should be able to get a night's sleep in normal circumstances. For fuller details about the TOT rating see this Technical Briefing.
LINERS: A liner will add to the insulation if you choose the Minimus or the M.Degree° 200K but want more warmth. As always it is a trade-off between the extra weight & bulk and the warmth you gain (maybe 2°C). Silk liners at 140g are a popular choice but, for a greater boost of extra warmth, our K-Series Filler Bag will add 10°C to the bag's TOT for a weight of just 240g.
CLOTHING: Thermals (if you are taking them) and/or other clothing obviously help to keep you warm. If choosing the Minimus or the M.Degree° 200K, then Wafer/Wafer Ultima clothing adds considerable warmth for minimal weight. Even warmer but still very light is the K-Series Ultra Down Vest at 150gm. See the Clothing section below for more details.
FABRIC OPTIONS: The Minimus K and Minim 400K come as standard with MX – an exceptionally tough but nevertheless very lightweight fabric – but are also available in Ultrashell. This is highly wind/water resistant, which is particularly useful for shedding condensation in tents, and only adds about 18gm to the total weight. M.Degree° bags use 7X, our lightest fabric, with Hypershell as the water resistant option (adds about 15g).
The M.Degree° bags are also available with a waterproof footbag (racing tents can be pretty cramped and it's easy to end up sleeping with feet pressed against wet fabric) which can be permanently fixed in place, or detachable to allow stripping down for ultralight overnights.
ZIPS: None of these bags has a zip. Zips are an option, but most competitors don't ask for one. A short zip with draft tube adds about 50gm (2oz): a full zip and tube adds about 110gm (4oz). Zips also add to the packed size. A further option is the footzip on the M.Degree° which only adds about 10g (⅓ oz). Designed for venting tired feet on desert ultras, it's perhaps less relevant for the OMM, but you may of course have plans for hotter races.
PACKED SIZE: PHD stuff sacs tend to be on the loose side. All these bags can be compressed further in your sack.
OMM Down Clothing selection
The OMM weekend commits the racer to a quite considerable time at the evening campsite after the first day's racing. What's more, the clocks move back an hour at 2:00 a.m. on the Sunday morning, meaning an even longer period in camp before the chance to warm up on the second day of racing.
The use of down clothing to create a layered Sleep System while in your sleeping bag – and for wearing around camp of course – is worth considering for ultimate weight saving and provision of warmth. Our Wafer/Wafer Ultima range of clothing was designed with this in mind: a fraction of the weight of fleece (and an even smaller fraction of the bulk), but totally windproof and capable of keeping you warm down to round about freezing point. Warmer than that is the Ultralight range: The Ultra Vest K weighs only 150gm, which is lighter than most T-shirts, yet it will provide real warmth down to approximately -5°C. The Ultra Pullover K is the sleeved version, and at just 230g represents another very useful option. Along with these, our Minimus Down Trousers and Minimus Down Socks will add considerably to the performance of your sleeping bag.
The next Original Mountain Marathon takes place in the Mountains of Argyll & Bute, starting on 30th October 2021.
https://www.theomm.com/the-omm/
Photo: Eric Rayner