A Very Human Race
15 Sep 2018
Climbing, mountaineering and mountain marathons are usually what we're thinking of when coming up with our gear. But frankly, if ever there was an activity where low weight and tiny bundles come in handy, it would be a 1700km bike race through the mountains of Kyrgyzstan.
That's how we heard about the Silk Road Mountain Race: the folks at podia.cc got in touch, as a couple of their number, Max and Justin, were taking it on. And they needed some gear.
Now, luggage for an adventure bike needs to be trim and minimal: the traditional tourer's layout of big, fat, rear-mounted panniers unweights the front end, causing the bike to sway around when standing up to climb (and the Silk Road features 26,000m of that, on questionable surfaces), so frame-mounted bags and low-slung front panniers are de rigeur. And that means whatever you're taking, it can't be very big. It can't be too heavy either: gearing is one thing, but it's not magic. You've still got to get yourself and a laden bike up a mountain with your legs.
So, we sorted them out with Wafer gear. It certainly sits comfortably in the "can't be very big" and "can't be too heavy" categories. In fact, if you're going to take a full frame camera and attendant lenses, it weighs basically nothing by comparison!
We had a look at the race while we were making these arrangements and we have to say, it looks really rather spectacular, and more than just a little jealousy-inducing. Max opined that he was "not sure if this country is better explored during a 'race' or at leisure. Maybe I will have to go back again?" which sounded a little more our style…though there are those of a racing bent here at PHD Towers, so never say never.
In the end, Max's musings turned out to be quite prophetic. It quickly became apparent that the experience of Kyrgyzstan was far too good to waste by – literally – racing through it.
"…we withdrew after Check Point 1. We were already 24hrs behind schedule after enjoying our surroundings too much."
And really, we can't argue with that.
It wasn't just the surroundings themselves though, it was the people who inhabit them:
"I read before about Nomadic people's hospitality, but until you experience it you can't understand how amazing it is. They have so little but would happily share anything they had.
We stayed with a shepherd for a night in his yurt and joined a family reunion picnic!"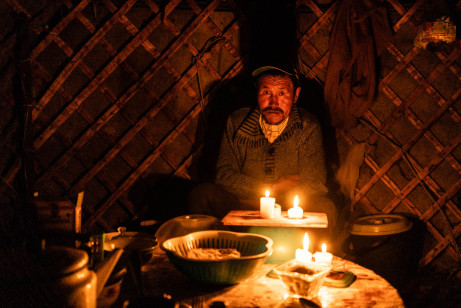 Really?!
Apparently so, yes:
"Descending down a mountain at 10pm in the pitch dark we were making slow progress. Unaided by the freezing cold river crossings. Just as our morale was hitting a low point we saw a flashing light in the distance. A shepherd approaches us and makes the universal sleep sign with two hands next to his cheek and points to his yurt. We couldn't have been happier."
No, you don't run away from that to chase a finish line. Priorities duly updated, they set about enjoying Kyrgyzstan at a more sedate pace.
Unfortunately, after deciding to take a more leisurely approach, they both ended up getting sick! The rest of the week was spent doing a bit more cycling and generally trying to get themselves better, which is a real shame, but despite being unwell, despite pulling out of the race, a trip filled with the experiences they had must surely count as a success. Max certainly seems to think so…
"I can't recommend this country enough to all who enjoy a good adventure outdoors!"
It quickly became apparent that the experience of Kyrgyzstan was far too good to waste by – literally – racing through it.