Saunders Lakeland Mountain Marathon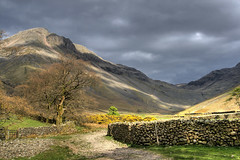 The Saunders Lakeland Mountain Marathon is a wonderful two-day Lakeland event, which is deservedly popular. Expect early summer mountain conditions, but, as always, you can encounter tough-going mountain weather. A good night's sleep can make all the difference to your performance.
Sleeping Bag choice
The two PHD sleeping bags most suitable for the Saunders Lakeland Mountain Marathon are the Ultra K and the Minimus K. Both are very lightweight. The Ultra K excels at saving weight and bulk in your pack, while the Minimus provides extra warmth. Otherwise, the Superlight option on our Design Your Own Sleeping Bag site allows you to create a bag of exceptionally low weight to your own specifications.
For mountain competitions, particularly where only one or two night's camping are involved, there is a strong incentive to travel as light as possible. Combining the Ultra K sleeping bag with down clothing - such as our Wafer or WaferLite gear - is another potential option to secure a good night's sleep.
The basic figures for the standard models:
S-bag
TOT (Min Temp)
Weight
Packed size
Hght x Diam (cm)
C
F
gm
oz
Minimus K
5
41
380
13
21 x 13
Ultra K
8
46
330
12
21 x 13
Additional points:
TEMPERATURE RATING: Put simply, these are the temperatures at which you should be able to get a night's sleep in normal circumstances. For fuller details about the TOT rating see this Technical Briefing.
LINERS: A liner will add to the insulation, but as always there is a trade-off between the extra weight and bulk, and the warmth you gain. Silk liners add roughly 2°C but only weigh around 140g so they're a popular choice. If you're especially concerned about cold, our K Series Filler Bag is 100g heavier than that but will add 10°C.
CLOTHING: Thermals (if you are taking them) and/or other clothing obviously help to keep you warm. For example, an outfit of Wafer clothing will give a 5°C boost to the temperature ratings of our bags.
FABRIC OPTIONS: Both bags come as standard with MX outer fabric - a mini-ripstop nylon with excellent tear-strength - but are also available in Ultrashell, which is highly wind/water resistant but only adds about 18g to the total weight.
ZIPS: These bags are designed to work without zips, to keep weight down. Zips are an option, but most competitors don't ask for one. A short zip with draft tube adds about 50g (2oz): a full zip and tube adds about 110g (4oz). Zips also add to the packed size.
PACKED SIZE: PHD stuff sacs tend to be on the loose side. All these bags can be compressed further in your pack, particularly the Ultra K.
Figures for Fabric options:
S-bag
Materials
TOT (Min Temp)
Weight
Packed size
Hght x Diam (cm)
C
F
gm
oz
Minimus K
Ultrashell outer
5
41
398
14
21 x 13
Minim Ultra K
Ultrashell outer
8
46
348
12
21 x 13
Down Clothing selection
The Saunders Lakeland Mountain Marathon weekend commits the racer to a quite considerable time at the evening campsite after the first day's racing. Temperatures in the mountains can drop more than expected, making warm, compressible and lightweight down clothing a good choice.
The use of down clothing as a layering system while in your sleeping bag and for wearing around camp is worth considering for ultimate weight saving and provision of warmth. Our Wafer clothing was designed with this need in mind. The Wafer Jacket weighs only 190g - a lot less than a standard fleece (in fact, it's less than a lightweight merino baselayer) - yet it's windproof and provides real warmth down to freezing point. A full suit of Wafer clothing weighs 365g, and will add 5°C to the warmth of your sleeping bag. Bear in mind that this figure is for head-to-toe layering: adding just a top will certainly add warmth, but obviously can't do as much as a whole suit.
To save even more weight, there's our WaferLite range: the lightest down tops in the world, warm down to around 5°C.
When layering clothing inside your sleeping bag, make sure you don't neglect your feet! A pair of Wafer Socks weighs just 45g but makes a huge difference.
The date of the next Saunders Lakeland Mountain Marathon has yet to be announced:
Photo: alancleaver_2000